Would the patrol cars used by the Nigeria Police Force make it to the list of the fastest police cars in the world? We'll leave that question open while we take a look at this list of the fastest police cars in the world.
As you might have guessed, these cars are not your regular saloon cars. Besides the fact that they are already built for speed, they still get additional performance parts that make them the perfect machine for either chasing down speeding criminals fostering the relationship between the police and the citizens they protect. They are also modified for emergency response situations where they need to move from point A to B at top speed. Below are the fastest police cars in the world:
Mazda RX8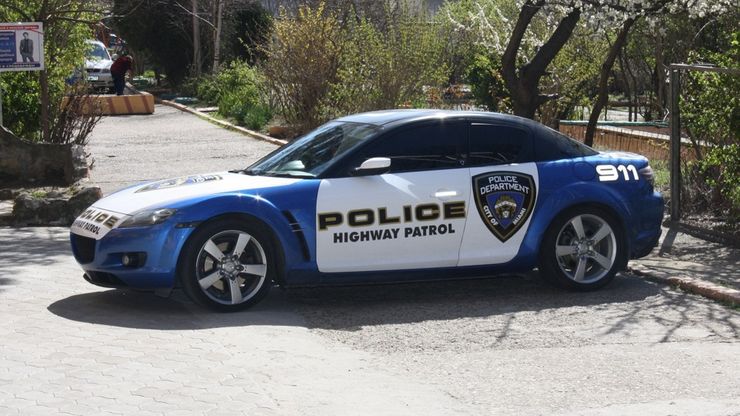 The Mazda RX8 is a Japanese machine with a rotary 1.3-liter engine provides 232 horsepower and 159 lb-ft of torque. It achieves its lightweight design by having a blend of plastic and aluminum parts. This car's rear boasts of impressive handling and its performance design is essential to its handling. It's civilian version of the Mazda RX8 might be a zippy economical ride, the police patrol car packs a whole lot more aggression.
Price: $15,595 | N7.1 million
Brabus Mercedes CLS Rocket – Germany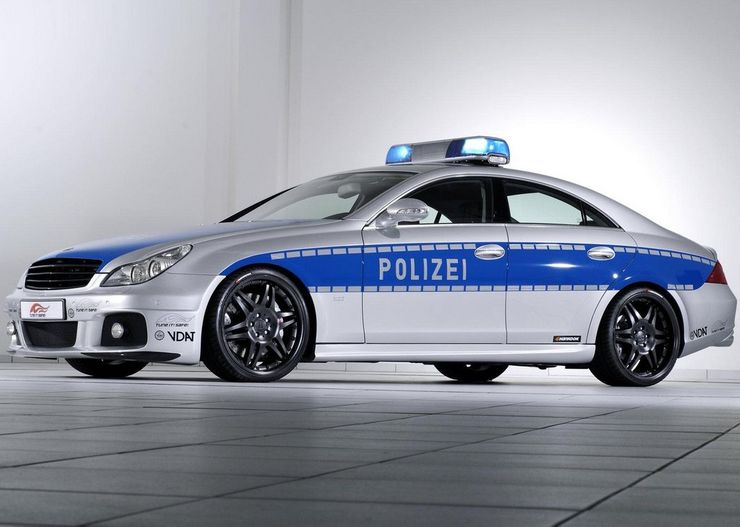 The Brabus Mercedes CLS Rocket stands out as one of the fastest and safest police cars in the world. It has a large vehicle body, which offers plenty of safety features that are not available in several other supercars with similar power.
As a police car, the Brabus Mercedes CLS Rocket impresses on many levels. It has enough room to throw a criminal in the back, and hauls under pressure with a V12 engine producing 800 horsepower. This CLS Rocket goes from zero to 96.5 km/h in just 3.5 seconds.
This police car also has large heavily ventilated disk brakes on all its four wheels, which help the car stop even when traveling at high speeds.
Price: $578,000 | N261 million
Mercedes SLS AMG – Dubai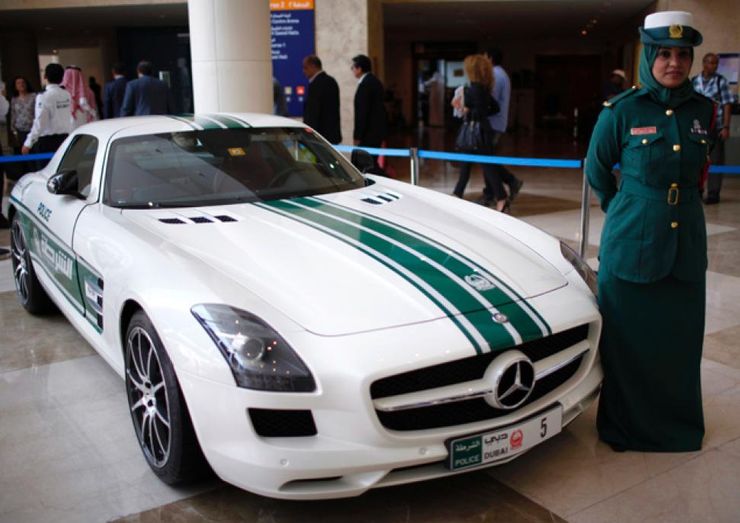 With a weight of 3,723 lbs and packing a 6.2-liter V8 engine with a 7-speed automatic transmission. The V8 engine gives the SLS 479 lb-ft of torque and 583 horsepower.
The large engine and light frame of the Mercedes SLS AMG allow the vehicle to cruise at a top speed of 315.4 km/h. It clocks zero to 96.5 km/h in 3.6 seconds and has exceptional handling for its speed.
It's appearance might not be as aggressive as other cars on the list, but it makes the our pist of the fastest police cars in the world.
Price: From from $123,879 to $524,523 | N56 million to N236.1 million
Jaguar XF – England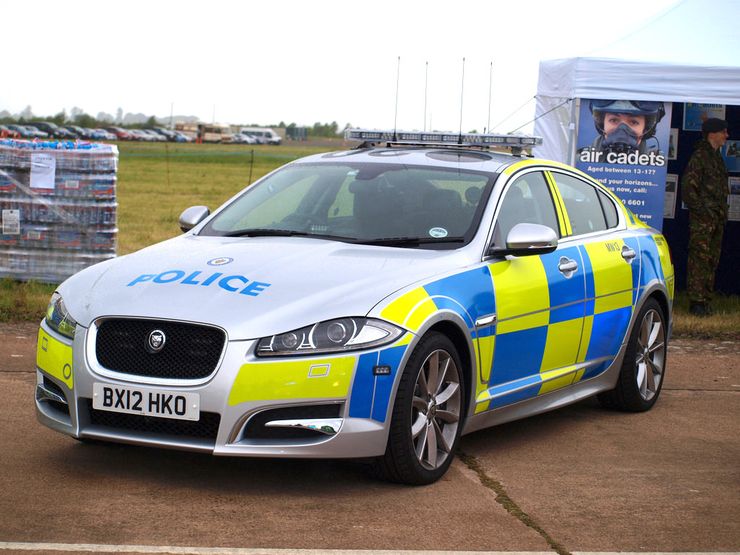 The Jaguar's XF was introduced as a police car in 2010 when the Central Motorway Police Group in England purchased seven Diesel S Jaguar XFs. This car has a 3.0-liter diesel engine that can produce 275 horsepower and 443 lb-ft of torque.
This car clocks a top speed of 299.3 km/h and goes from zero to 96.5 km/h in 4.9 seconds. In addition to being fast, the Jaguar XF offers excellent gas mileage and low emissions as well.
Price: $51,465 | N23.2 million
Audi R8 – Dubai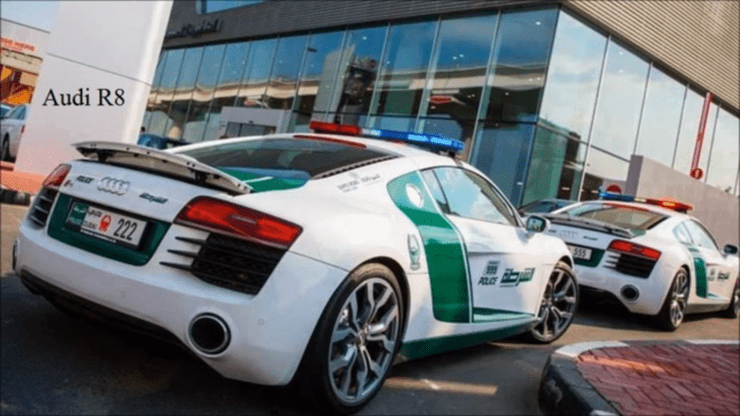 In 2016, the Dubai police added two units of the Audi R8 to the police fleet of patrol cars. The Audi R8 remains one of the fastest cars to be produced by the Audi brand. In 2020, the The R8 V10 Spyder boasts a top speed right at 321.8 km/h, while the R8 V10 coupe will reach a speed of321.4 km/h.
Meanwhile, an Audi R8 V10 Performance coupe or Spyder can deliver top speeds of 329.9 km/h and 328.3 km/h respectively.
The Audi R8 is extremely attractive for a police car and sits on 5-spoke 19-inch designer wheels. The low growling sound from the exhaust announces the R8's presence wherever it goes and has great handling even at high speeds.
However, the police in Dubai didn't add these cars strictly for chasing after speeding criminals. The chief of police in Dubai explained that the supercars gives the police an additional way to connect with the community.
Price: $216,245 | N97.3 million
Ariel Atom – The United Kingdom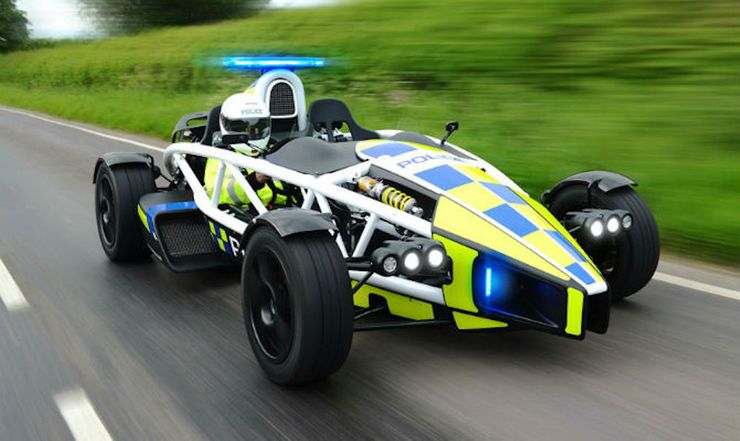 The Ariel Atom looks like a cross between a go-kart and an Indy car and a go-kart. It is powered by an aspirated 2.4-litre Honda K24 VTEC engine. Its 6-speed transmission gives it 230 horsepower while its Yokohama S.drive tires grip the road as they go after speeding street bikes and racing cars.
This vehicle was added to the police fleet in a move to educate the public on the dangers of motorbike speeding. Just like other cars on this list, the Ariel Atom is as much for show as it is for service.
Price: Between $50,000 and $200,000 | Between N22.5 million and N90 million
Spyker C8 – The United Kingdom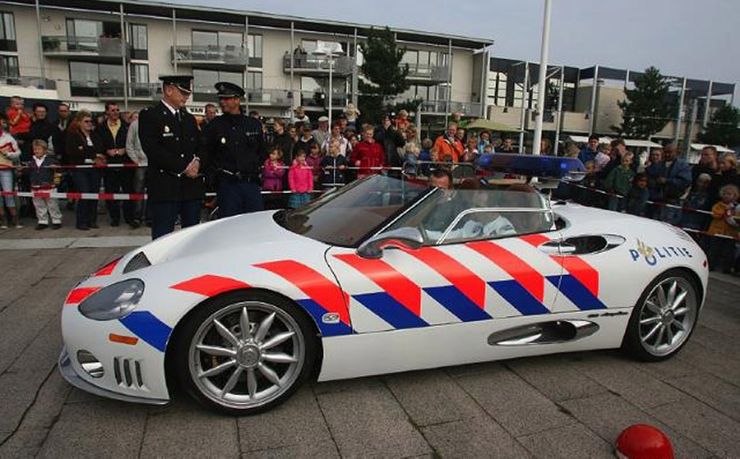 The Spyker C8 is rare, fast and one of the most expensive cars ever manufactured. It clocks a top speed of 300 km/h while its V8 4.2-liter engine produces 320 horsepower and 384 lb-ft of torque. It climbs from zero to 60 in 3.5 seconds, which makes the Spyker the perfect police car. It is efficient as a high-speed pursuit vehicle and impressive for chasing down street racers.
The C8 Spyker was manufactured in the Netherlands, first introduced in 2003 and has great handling.
Price: Starting at $425,000 | N191.3 million
Chevrolet Camaro SS – Dubai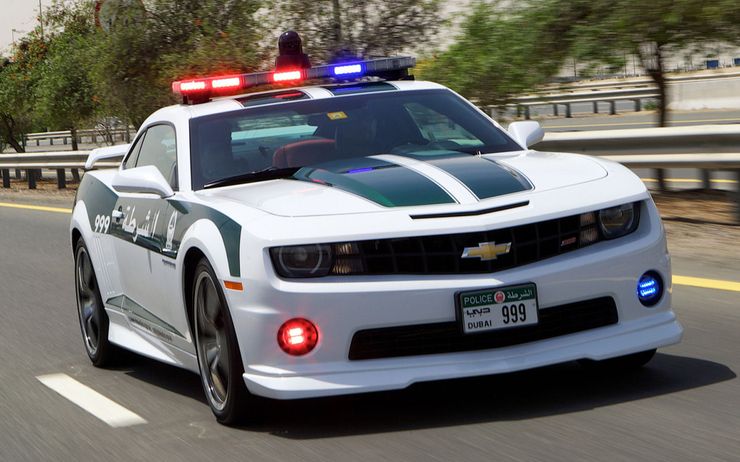 We are back in Dubai and this time, it is the Chevrolet Camaro SS – the all-American supercar that stands up tall amongst its peers across the globe. It has a 6-speed manual transmission and a 6.3-liter V8 engine.
The Chevrolet Camaro SS does zero to 60 in 4 seconds flat and is fairly comfortable for a 4-seat sports car. It got a shot at proving its mettle within the ranks of the fastest police cars in the world.
Price: $60,000 | N27 million
Ford Mustang – The United States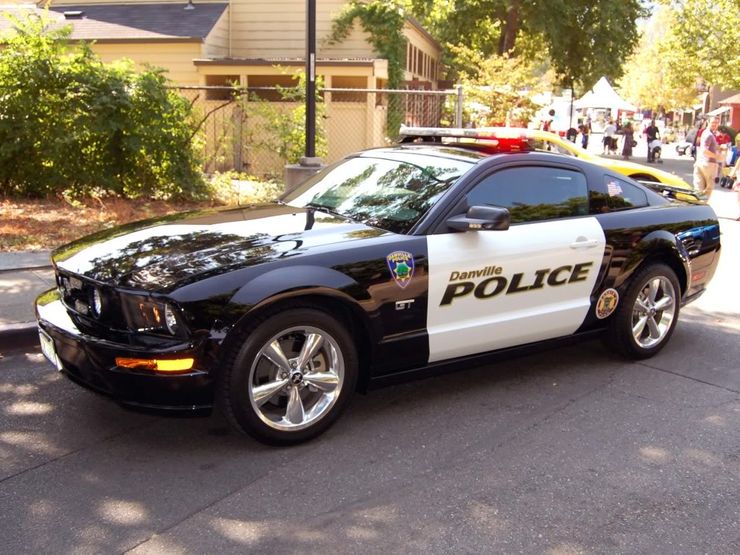 The Steeda Ford Mustang GT Police Interceptor is pure power on wheels. The fact that it ranks as one of the fastest police cars in the world is not a coincidence.
When compared to civilian Mustangs, this car, with its 5.0-liter V8, is incredibly fast. it has 777 horsepower and 655 lb-ft of torque and is built to catch almost any street-legal car on the road.
The zero-to-60 speed and top speed of the Mustang Police Interceptor are not published. However, it clocks a top speed of over 321.8 km/h.
Mustang Police Interceptor is specially made and is faster than other American super-pursuit cars like the Camaro SS. You should also know that the Mustang is able to compete with many exotic cars all over the world.
These are some of the things that make the Mustang Police Interceptor such an exceptional asset for the police force in the United States.
Price: $35,630 | N16 million
Dodge Challenger – The United States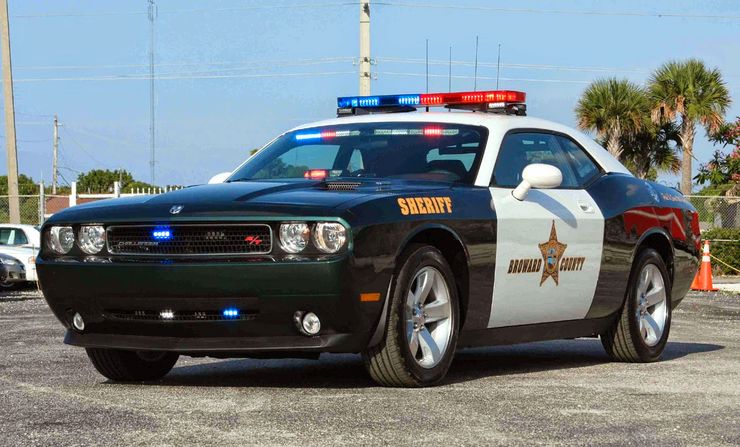 If there's any police car that has earned the right to be called a Beast, it has to be the Dodge Challenger. To outrun this car, you'll need to be driving one of the cars that have been officially listed in our Top 10 Fastest Cars in the World. Put an experienced driver behind the wheels of a Dodge Challenger Police cruiser and criminals with hot wheels will surely be worried.
This is clearly one of the fastest police cars in the world and it comes with a 6.4-liter HEMI V8, which produces 485 horsepower paired with the standard TREMEC 6-speed manual transmission.
The police version keeps details of its performance parts that make it faster unknown but this car is clearly faster than your typical HEMI V8 Challenger. It clocks zero to 60 in 5.1 seconds and can catch up to many exotic cars despite their speed.
Price: $28,095 | N12.7 million
Chevrolet Corvette – The United States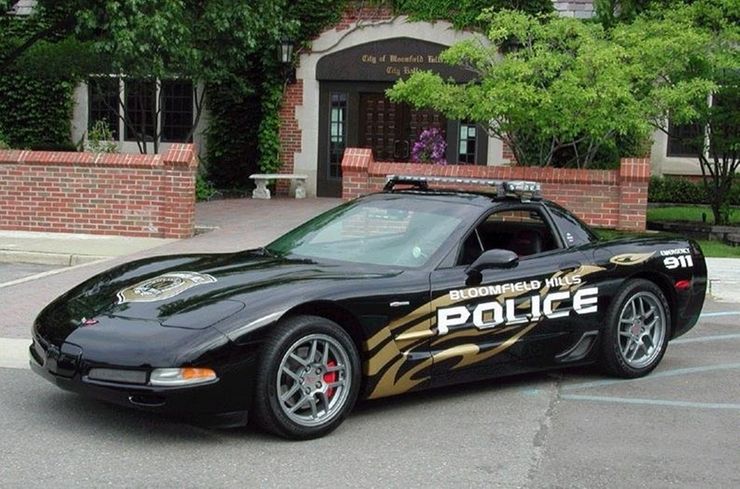 The Chevrolet Corvette police car is another powerful machine on our list of the fastest police cars in the world. Over the years, there have been new entrants like the 1,005-horsepower Z06 Corvette that the Braunfels Texas Police Department added to its fleet.
This car was part of a major seizure of luxury assets that included several cars, jewelry, cash, real property, and guns totaling more than $1 million.
The Chevrolet Corvette police was already modified to reach the current 1,005 horsepower. Fortunately for the crime lords like the meth dealer that the Z06 was seized from, the Chevrolet Corvette police car won't be a patrol car. Rather, it would be used for PR events as many other police forces around the world do with their supercars.
Price: $71,945 | N32.4 million
Lamborghini Gallardo – Rome, Italy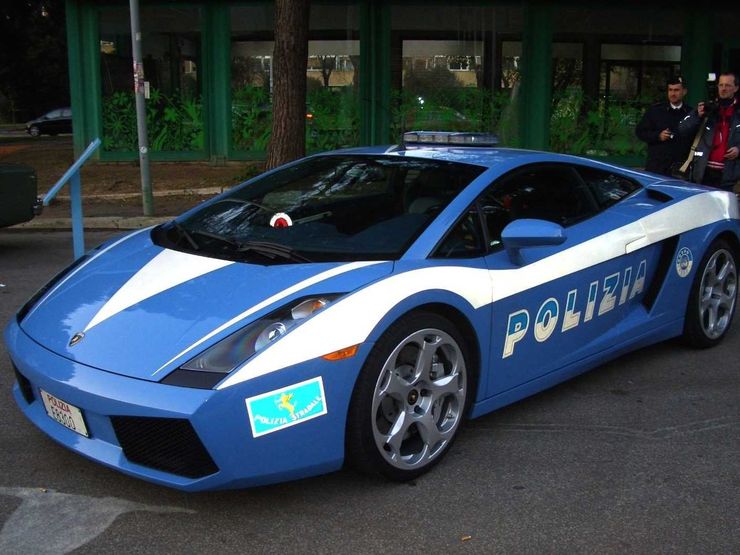 The Lamborghini Gallardo occupied a special place in the heart of Rome's police unit. At one point, it was replaced by the Huracan but the Italian-made Lamborghini Gallardo remains one of the fastest police cars on this planet.
It has a 5.2-litre V10 542 horsepower engine and clocks a top speed of more than 321.8 km/hr and goes from zero to to 60 in 3.8 seconds.
Price: $241,200 | N109 million
Lexus IS-F – The United Kingdom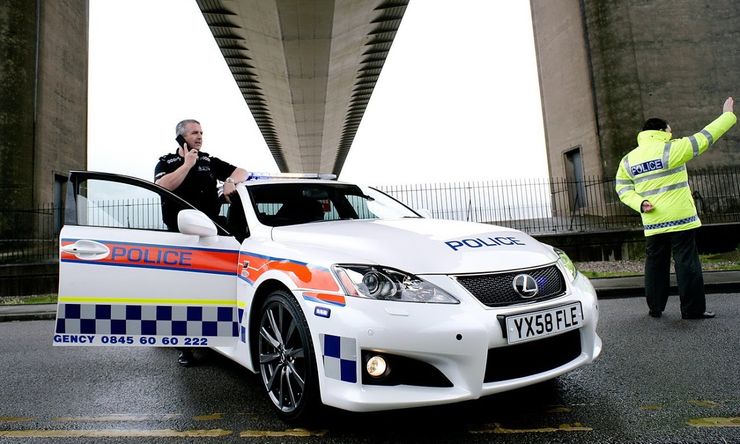 The Lexus IS-F replaced the Humberside Police Departments Subarus, . had earned its place in curbing illegal street racing and organized crime.
The car is a high-performance vehicle that's specially primed for optimum results. It offers a pleasant driving experience and is ultra responsive. It comes with a 5.0-litre V8 engine and police officers can accelerate to 96.5% in just 4.7 seconds. The top speed of this car has been set at 270.3 km/h.
Price: $145,000 | N65.3 million
Honda NSX – Japan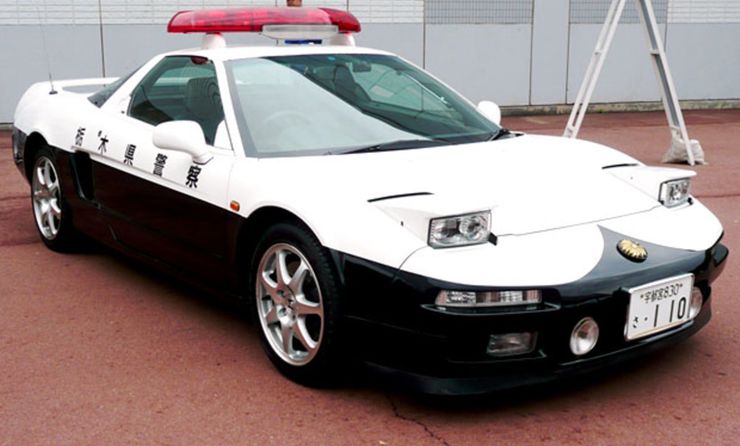 Before we delve into this, we should point out here that Japan has an auto industry that's known for having more than its fair share of performance vehicles.
This, perhaps, explains why the Japanese police have a history of chasing criminals in highly tuned Japanese exotic cars.
This is where we introduce the Honda NSX – one of Japan's super fast police cars. It is sold outside Japan as the Acura NSX and is one sports car that has lived up to its reputation.
It isn't as fast as many of the police cars we have listed in this article but trust us when we say it is fast enough. it goes from zero to 96.5 km/h in 5 seconds.
However, unlike many other supercars, it gets excellent gas mileage despite the 3.2-liter V6 engine that powers the NSX.
Price: $157,500 | N71 million
Ford Taurus Police Interceptor – The United States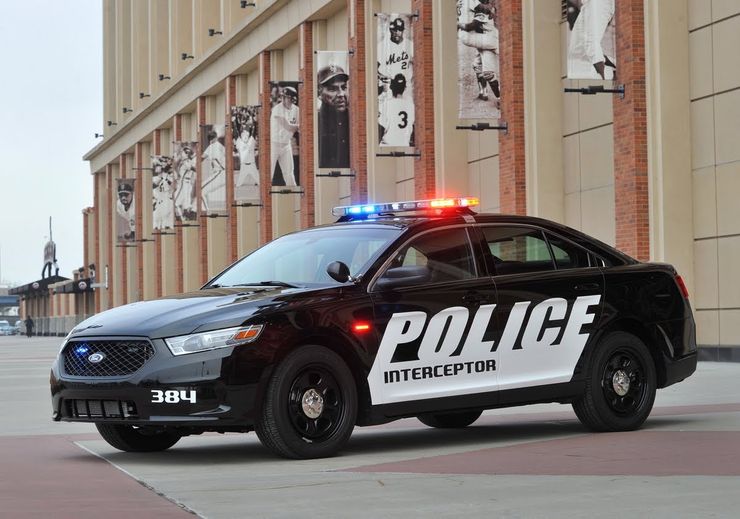 The Ford Taurus police Interceptor was introduced to replace the high performing and dependable Ford Crown Victoria. As of 2019, a total of 67,480 units of the Ford Taurus had been brought into active police service. That can't be sheer coincidence. Rather, it's because the Taurus comes loaded with 365 HP and a top speed of 241.4 km/h; thanks to its EcoBoost V6 engine.
One of the defining elements of the Ford Taurus Police Interceptor is that it drives to all four wheels. In other words, the Interceptor is a perfect example of what performance tuning and AWD can do to an everyday car.
Price: $37,500 | N17 million
2015 Dodge Charger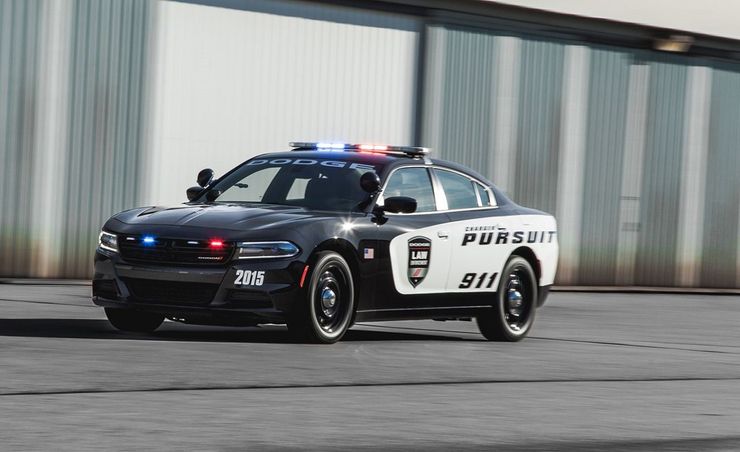 Right from the moment they were introduced to the United States' police force in 2006, Dodge Chargers have dedicated their speed and efficiency to the service of the greater good.
The aggressive exterior and performance of the Charger have excelled at discouraging would-be criminals from a car chase. In cases where they have been used, Dodge Chargers have successfully intercepted speedsters who have a penchant for breaking the law.
Price: $29,000 | N13.1 million
Bentley Continental GT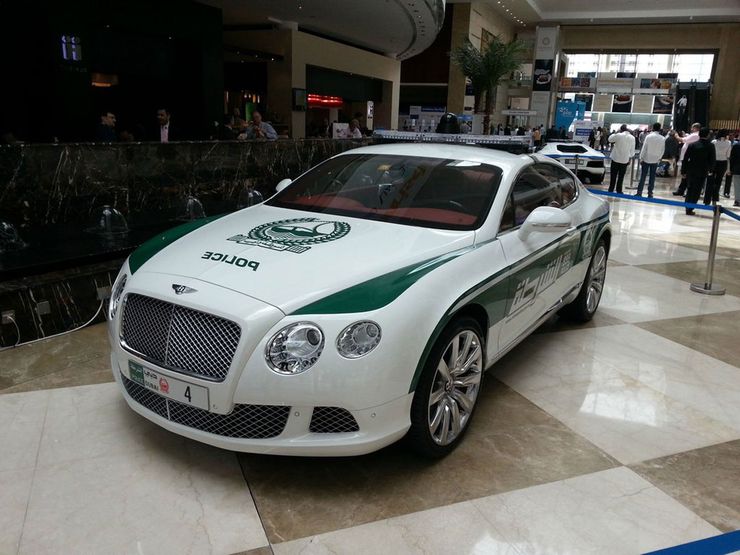 The Bentley Continental GT is a spacious 2-door, 2-seat sports coupe. It was the predecessor of the Bentley Bentayga, which came much later.
This car receives 582 horsepower from the large 6.0-liter turbocharged 12-cylinder engine. It's 24-gallon gas tank makes it perfect for extended trips.
It goes from zero to 96.5 km/h in 4.3 seconds while the police car version is likely able to complete the task somewhere in the region of 3.4 seconds due to special police-edition fine tuning.
Price: Starting at $217,325 | N98 million
McLaren MP4-12C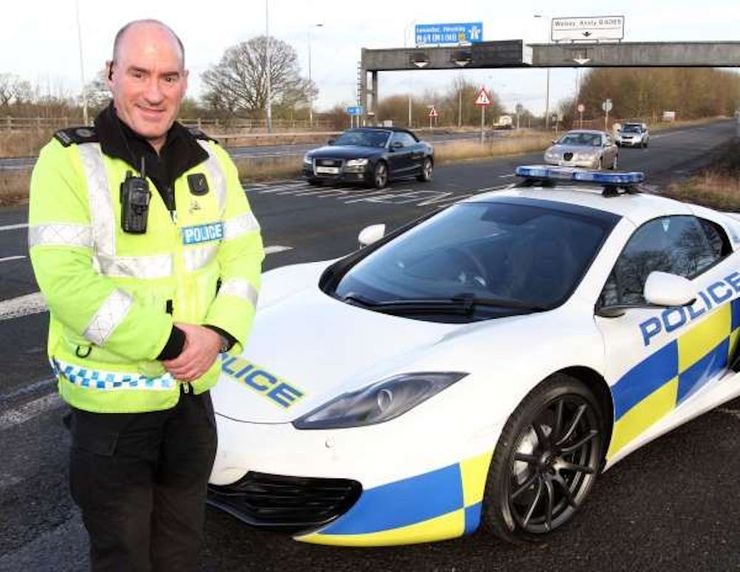 The McLaren's MP4-12C stands tall as one of the rarest exotic cars on our list of the fastest police cars in the world. It's a sexy sports coupe that comes with fantastic handling.
This car packs a 616-horsepower engine and climbs from zero to 96.5 km/h in 3.2 seconds. Compared to other cars on this list, it is a good deal. The transmission lifts the speed of this police super-pursuit vehicle by giving the driver the ability to shift gears faster than most exotics allow.
Price: Slightly over $140,000 | N63 million
Ferrari 458 Italia – Milan, Italy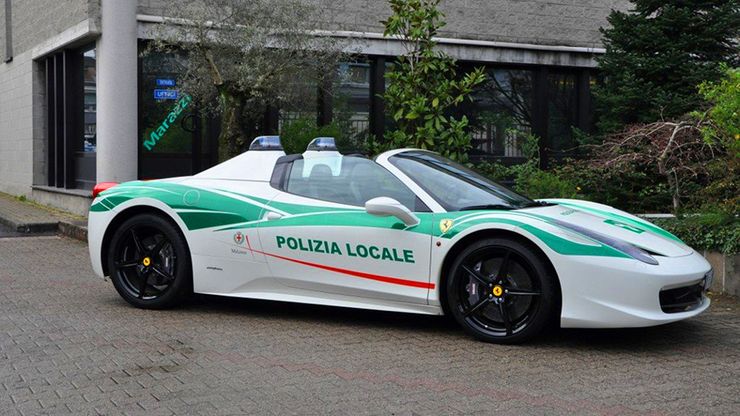 Rome isn't the only city in Italy that boasts of supercars within its police force. The Milan police also have a Ferrari 458. Interestingly, it is the only Ferrari 458 police car in the world.
The Milan police use this car to show its citizens that no matter what you're packing under the hood of your car, you can still drive responsibly.
The idea is that if a police officer can maintain a safe driving speed and follow the posted speed-limit signs on the roads in Milan while driving a Ferrari 458, then anyone can.
With a speed that climbs from zero to 96.5 km/h in just 3 seconds, the Ferrari 458 is clearly one of the fastest police cars in the world behind the Bugatti Veyron and the Porsche 911 Carrera.
The 458 also comes loaded with incredible handling, which makes it both fast and fun to drive.
Price: $270,000 | N121.5 million
Nissan Skyline – Japan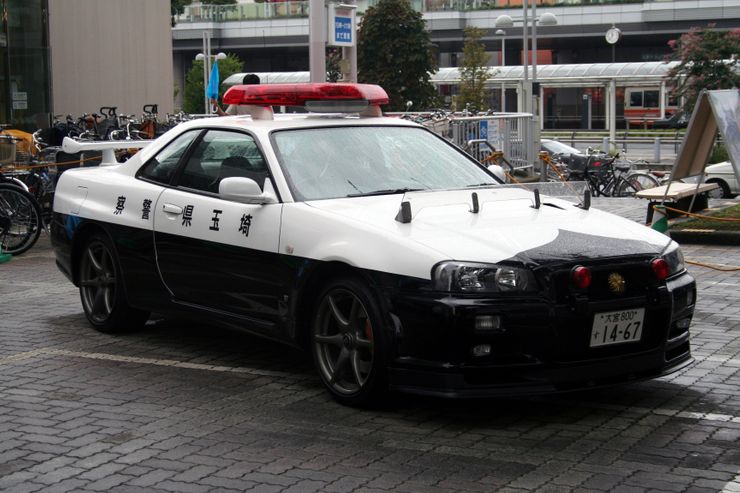 Auto enthusiasts tend to have a soft spot for the Nissan R34 Skyline. The Nissan Skyline finds its way to Japan's fleet of fast police cars.
Nissan has a strong history of developing excellent-quality performance-focused vehicles that stand the test of time. The Nissan Skyline's 2.6 L twin-turbo RB26DETT All-Wheel-Drive engine and 6-speed Getrag Transmission pushes it into cruising from zero to 96.5 km/h in 4.6 seconds.
Meanwhile, Skylines can be tuned to produce much more power and incredibly quicker track times. To be honest, the Dubai Police Department's Bugatti Veyron might not be the fastest police car in the world. What if we told you that in a drag race, the R34 Nissan Skyline won.
Compared to the Bugatti, the Skyline is a far more affordable option but as we pointed out, it would require performance tuning to beat the Bugatti Veyron police car in Dubai.
Price: $22,500 | N10.2 million
Lotus Evora – The United Kingdom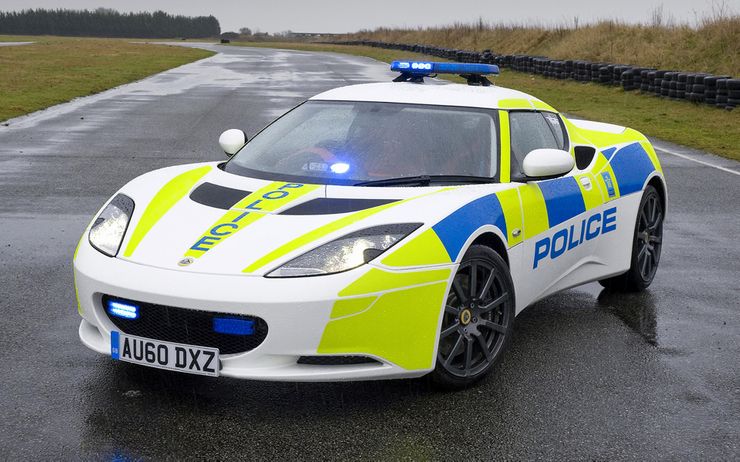 The Lotus Evora is built to reach a top speed of more than 321.8 km/h and reaches 96.5 km/h in under 5 seconds.
This police car is powered by a 3.5-liter V6 engine with 280 horsepower and 302 lb-ft of torque. It isn't the fastest police car but definitely makes our list. The police officers driving this one will be able to catch most cars except of course, they find themselves chasing a Bugatti.
Price: Starting at $69,297 | N31.2 million
Ferrari LaFerrari – Dubai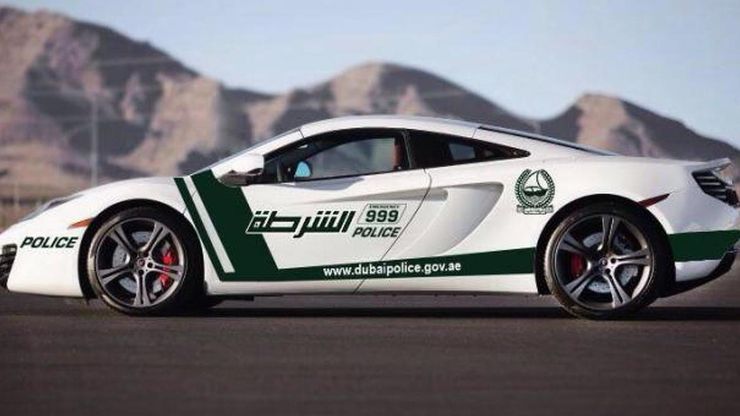 With a top speed of 349.2 km/h, Dubai's Ferrari LaFerrari is remarkably fast. This speed is derived from its massive 6.3-liter V12 engine.
The Ferrari LaFerrari's engine reaches the maximum 950 horsepower with Ferrari's HY-KERS system, which electrically aids the engine.
Regardless of the speed you're driving at, the power remains with the Ferrari LaFerrari. The engine is aided by a 7-speed dual-clutch F1 transmission.
This machine is beautiful inside-out and its interior is highly customisable. It remains the only one within the police fleet across the globe.
Price: Starting at $1 million | N450 million
Porsche 911 Carrera – Austria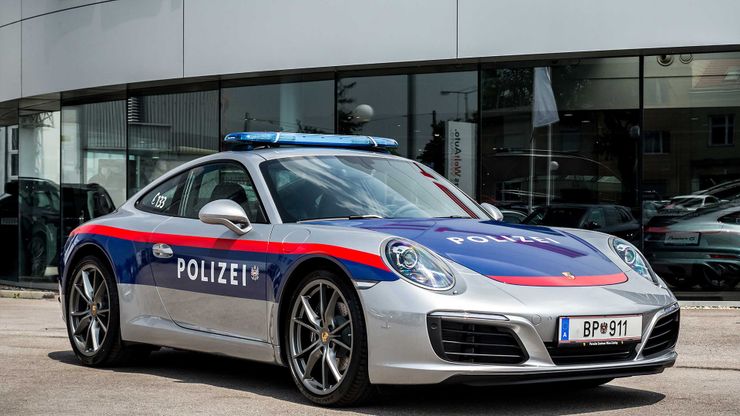 This police car is owned by the Austrian police and it believes that the Porsche 911 Carrera will help them connect with the community and steer drivers towards being more responsible.
The Porsche 911 Carrera clocks 96.5 km/h in 4.6 seconds and is designed to hit a top speed of 289.6 km/h. Its high-performance suspension gives it great corner-hugging ability. So, even when negotiating turns and bends, the supercar is able to keep up with some of the best supercars on the market.
The car also packs a whole lot of power under its hood in the form of custom tuning and performance modifications.
Price: Starting at $113,000 | N50.9 million
Lamborghini Huracan – Rome, Italy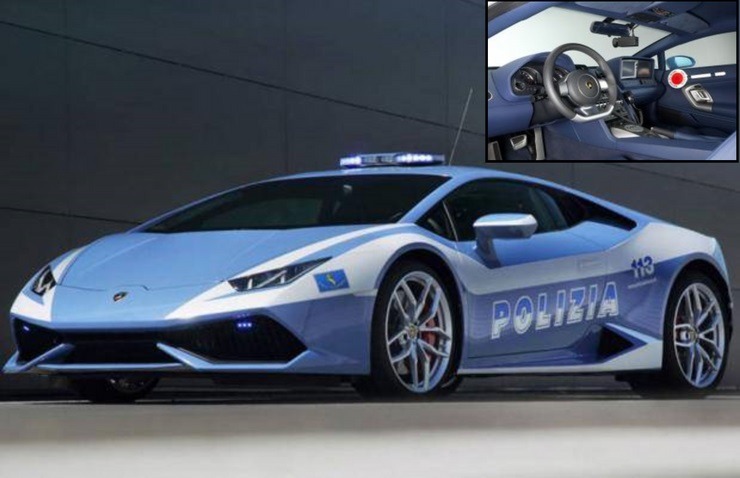 The Lamborghini Huracan was specially and proudly designed by Lamborghini for the Rome police. The Huracan replaced the previous Lamborghini Gallardo. Both cars share a strong similarity in their exterior.
The performance of the Lamborghini Huaracan is largely based on the engine configuration, transmission, and tuning. We should also mention that it is a rear-wheel-drive car
Lamborghini Huracan Price: Starting at $211,301
Lamborghini Gallardo Price: $156,980 | N70.6 million
Bentley Bentayga – Dubai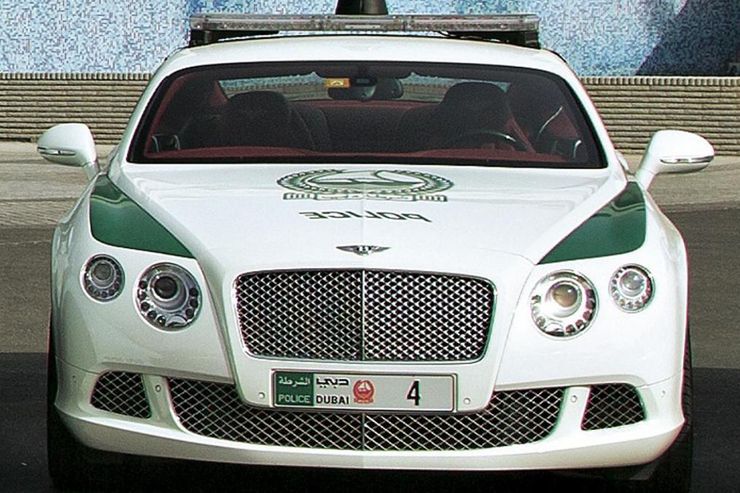 The Bentley Bentyaga joined the Dubai police car family in 2018 and features the police unit's updated logo. The addition of this luxury car was part of a marketing campaign designed to educate the public about the Dubai police.
The logo redesign was a reflection of the solid reputation that the Dubai police had carved for itself as a global leader in law enforcement. This supercar clocks 96.5 km/h in 3.5 seconds, which is 1.7 seconds faster than the 2018 Land Rover SVAutobiography.
The design also formed part of the police's outreach to connect with the citizens; a move that dates way back to when the Dubai police introduced supercars into its fleet.
Price: Starting $229,100 | N103.1 million
BMW i8s – Dubai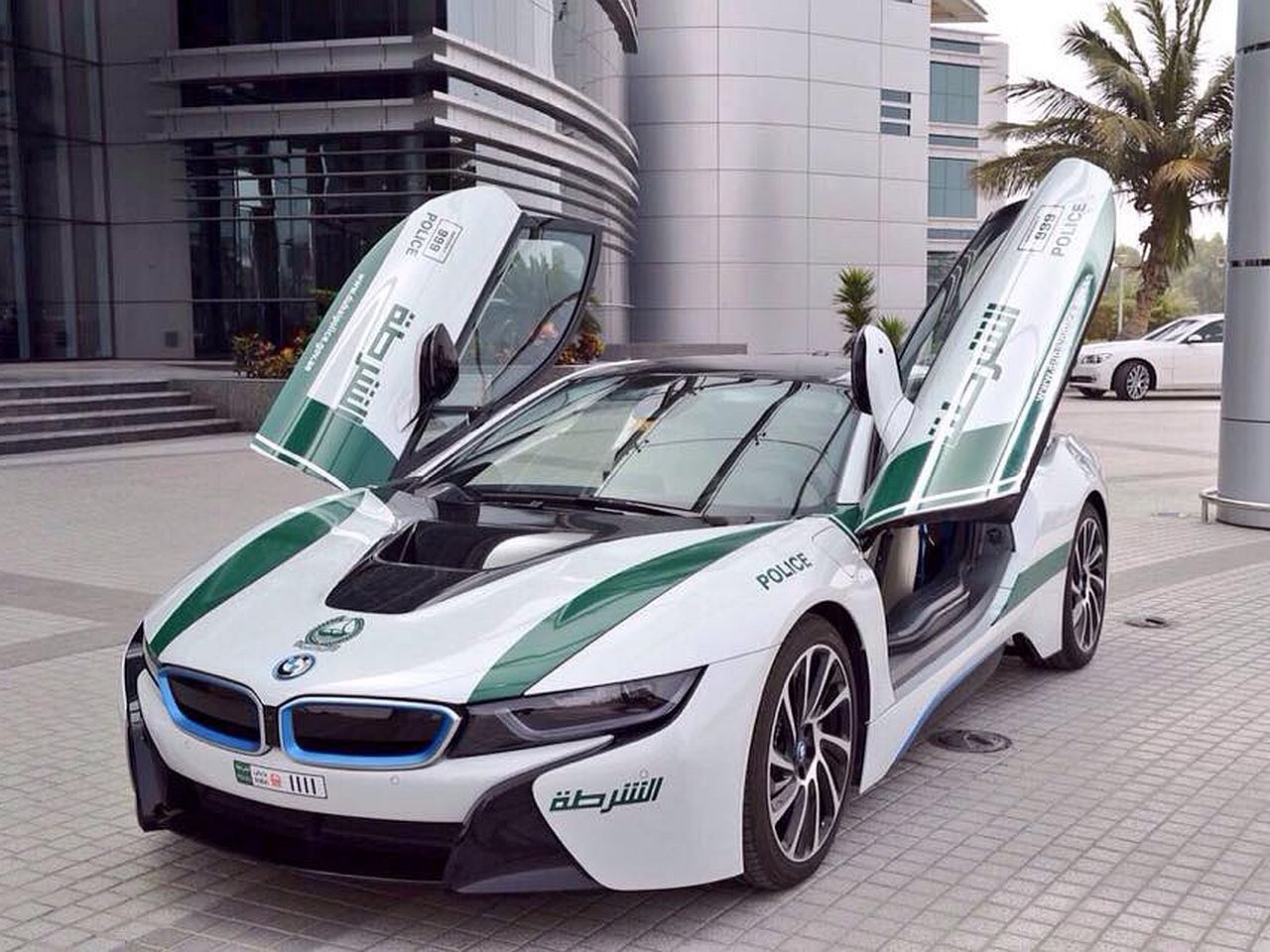 It was only a matter of time but the police force in the United Arab Emirates capital, Dubai, eventually added the hybrid BMW i8 to its fleet of cars that already includes Corvettes, Ferraris and Lamborghinis.
The BMW i8s is powered by a 1.5-litre three-cylinder turbo-petrol engine that is hooked up to a synchronous electric motor.
This car clocks a speed of 0-100 km/h in 4.4 seconds and was the first hybrid car to join the Dubai fleet. This, perhaps, points to the police force tilting towards a more eco-friendly form of transport.
As expected, the BMW i8, like all the other supercars within the Dubai Police force, will not be used for regular police patrol. Rather, the car will be used mainly for promotional purposes – the cars will be placed around various tourist attractions within the city as a means of engaging with car enthusiasts and the public.
Price: $135,000 | N60.7 million
2019 Ford Explorer – United States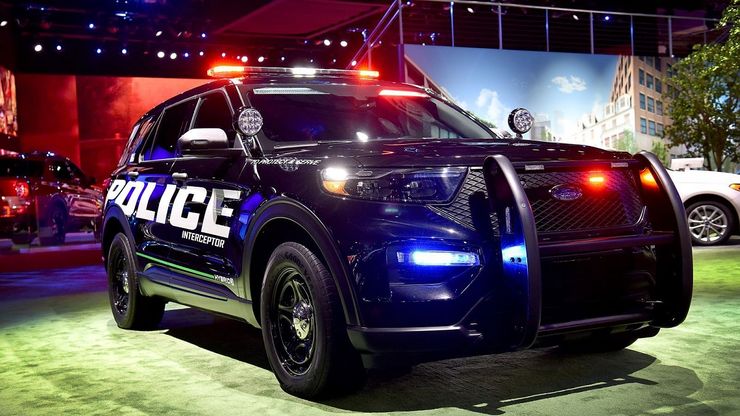 If you're looking for a capable SUV that packs performance and dependability within a single vehicle, the Ford Explorer is the car you need.
The stables of the Police force in the United States are half-filled with Ford Explorers. This vehicle comes with an AWD feature and packs a special turbocharged EcoBoost engine that can push the car into the speed region of 241.4 km/h. It is also great for modern cops who carry loads of equipment.
Price: Starting at $35,395 | N15.9 million
Bugatti Veyron – Dubai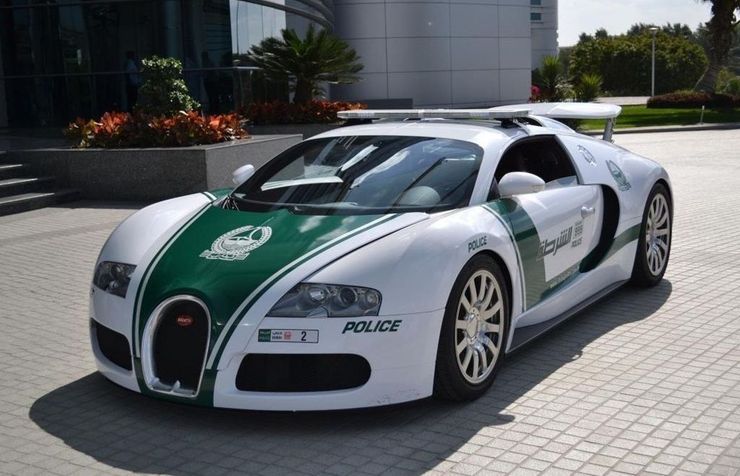 Currently, the Bugatti Veyron snatches the title of the fastest police car in the world. This car goes from zero to 96.5 km/h in just 2.46 seconds and has a top speed of 407.1 km/h
This level of speed is powered by the Veyron's enormous 8.0-liter V16 gasoline-powered engine. It shouldn;t come as a surprise that the Bugatti Veyron is the crown jewel of the Dubai Police's super fleet with its 1,200 horsepower.
The only cars that come close to snatching the crown from the Bugatti Veyron are the Dodge Demon police concept car and the Veyron's big brother, the Bugatti Chiron.
Will the Dubai police eventually add any of these two cars to its fleet of supercars? Only time will tell. For now, we can keep our fingers crossed.
Price: $1.7 million – $3 million | N765 million – N1.4 billion
Sources: Top Speed; MSN; Business Insider
NOTE:
All prices have been converted from dollar to Naira using the current exchange rate of N450 to $1
Prices are exclusive of cost of (all) classified performance tuning and modifications for police cars
(Visited 1,286 times, 1 visits today)