Weeks after the Lagos State government banned the activities of commercial motorcycles also known as Okada as well as commercial tricycles a.k.a Keke from plying major roads, new vehicles have surfaced.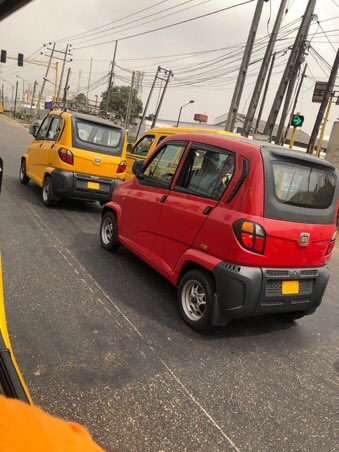 As you might have expected, Nigerians had a lot to say after weeks of untold hardship visited upon them by the absence of either Okada or Keke as a means of transportation within the state.
It should be recalled that the Lagos State government had made it clear that there would be no going back on the ban. The new vehicles, which many have christened with names like 'New Keke,' 'Korope' and 'Korope G-Wagon' as it continues to generate a buzz online.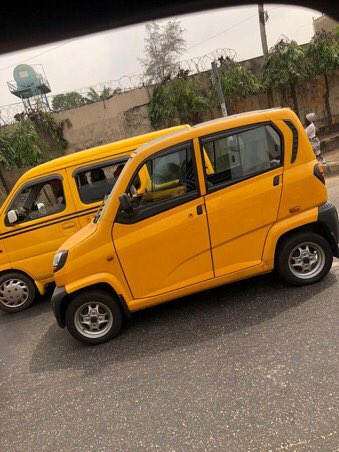 The news of the new vehicles spotted across Oba Akran and other parts of Ikeja was greeted by mixed reactions as you will see below:
📷 Behold our sexy-looking Lagos keke. I knew Sanwo-Olu had something up his sleeves.

Okada on the expressway is an aberration.

Lagos must re-brand… pic.twitter.com/PJtwqbAZ1p

— LMAN ✨ (@L_man__) February 19, 2020
Can these ones withstand the 6pm keke struggle at Cele bus stop? Where passengers enter from left, right and even under the keke? Sometimes by the time the keke is full, we will discover that someone has even displaced the original rider. https://t.co/M15Jp60gBS

— AJ (@AJ_Etim) February 19, 2020
The lagos state govt had to make millions of people go back into poverty after banning Okadas and Keke Napeps,

Now allowing some already rich billionaires to import new set of vehicles to replace them.

Honestly,

Naija is a messed up country.

— Barca Principal ⚽ (@TheGeniusJaj) February 19, 2020
https://twitter.com/RonaldosCrush/status/1230207903124029442
All this ones wey no get parts
..den go come give keke napep people to come collect on loan for 3 million…once engine knock ladipo no fit help

— Oritsefemmykoolkat (@phemmy85philps) February 19, 2020
So Lagos has already shipped these mini minie bus before banning Keke and Okada. Every RULES is JUST TO FAVOUR the RICH

A friend of the Governor is about to get rich. pic.twitter.com/EXw1y9mMfd

— A MAN HAS NO NAME (@Folatunz) February 19, 2020
I understand these are the new alternatives to Okada and Keke NAPEP

Starting from VI/Lekki/Lagos Island soon

Hope they won't become another menace on the streets pic.twitter.com/WTw94cvZt5

— Dapo (@dappssee) February 19, 2020
You cannot put Lagos people in a box, its very impossible

When they tried it and banned keke and motor bikes, some of them carried waste bin and put behind their bikes, turned it to delivery bike

Today, they have come up with another kind of keke!

Lagos people are wonderful!! pic.twitter.com/VhhbNC435k

— Peace Of Mind (@wealthy_yute) February 19, 2020
Lagos Keke.
No choice, let embrace it. pic.twitter.com/POaTTRWEad

— BUHARI FIRST SON. (@Bmatty321) February 19, 2020
So I heard, Lagos State replaced keke napep with emoji. Ayam flabagasted😁😁😁 pic.twitter.com/5cBTXmkx6w

— Splits✨ (@SymplyTunmi) February 19, 2020
Behold our 'Korope' G-Wagon!
Who says Lagos is not working again??🙄😄😄😄
Pontus Pilate was truly up to something with the Keke and Okada ban🤐🤐 pic.twitter.com/FEFnnr3ECZ

— Digital Soprano (@digital_soprano) February 19, 2020
I said this on Twitter the other day but some people were saying yen yen yen now it has happened. Say hello the the new Keke in Lagos. They banned Keke so they can bring theirs in 👏 The rich will always become richer that's all I have to say🤡🤡🤡🤡🤡🤡🤡🤡 pic by Bizzle pic.twitter.com/KFsn9fMc3a

— 👑🗡(Hon. Mrs Koko) (@OB_Omokorede) February 19, 2020
We'd like to know, @followlasg if these vehicles are now official, and what your plans are for rolling them out to phase out the "Keke"s. Might I add that the electric alternatives would be better and more Eko friendly "pun intended". https://t.co/keFLNWyy9k pic.twitter.com/1k4WiBri7U

— Victor Fortman (@hugovicfortman) February 19, 2020
They banned keke and brought out another rebranded keke cos they want one of their cronies to cash out big time. pic.twitter.com/gZJM9qkzts

— Chika of Ebonyi (@MistaChika) February 19, 2020
Final Thoughts on New Keke and Reaction of Nigerians
The Lagos State government is yet to take an official position on the 'New Keke' but it remains a topical issue. As at the time of writing this, residents of Lagos continue to struggle with the glaring shortage of vehicles to transport them to the various destinations.
Are you excited by the 'New Keke?' Kindly let us know in the comment section below.
(Visited 1,466 times, 1 visits today)