Now that you have bought a car on Autochek, you must realise that hiring a driver isn't just about his/her driving skills. It is also about the driver's knowledge of driving rules and his/her ability to convince you that he/she is competent enough to be hired as a driver.
There are also cases where car owners like you are not sure what to ask a driver they are about to hire, especially during an interview situation. Today, we will be treating possible questions drivers should anticipate. Here are 10 driver interview questions for both drivers and car owners looking to hire a driver.
1. What Kind of Vehicles Do You Drive or Have a License For?
This question is used to gauge the driver's skill. It is an important question since you won't be conducting a driving test for the applicant on the highway to know about his skill. Getting an accurate idea of the applicant's credentials through this question helps you to also gauge his experience and determine if he's bluffing in his CV or whether he can actually drive as well as he claims.
2. How Familiar Are You With the Specific Areas or Routes?
Technology has made it easier to locate routes through the use of GPS, but that doesn't take away the importance of this question. It is still necessary that a driver has a fair knowledge of the route he/she would be driving through. This question is designed to test the knowledge of the applicant on the area/neighbourhood/roads he/she would be plying regularly. Again, this gives you the opportunity to determine if the applicant is trying to be smart or actually know the places you have mentioned. A confident answer without hesitation and the description of specific areas are indications that the applicant is familiar with the place.
3. What Do You Enjoy the Most About Driving?
Driving to some people is fun; some petrol-heads get high from staying behind the wheels for hours; feeling the car slide from asphalt to asphalt. For them, staying behind the wheel is a kind of bliss. But for some other people, driving can be stressful and tiring, especially after spending long hours in traffic. It will pay off to employ someone for whom driving is a hobby. They are easier to motivate on the job than someone who sees driving strictly as a job.
4. What's the First thing You Would Do if You Get Into an Accident While Driving For Us?
The motto of the Boys' Scout is 'be prepared'. Perhaps, that should be the motto of drivers as well. This question seeks to test what the prospective driver will do in case of an emergency such as an accident. Will he freeze in the face of a minor or major accident or will he follow established company protocol on accidents?
A suitable applicant will already know what to do in the case of an emergency and would have a range of responses for you when asked this question.
5. Have You Been Involved in an Accident Before?
There are probably limited ways of verifying the answers given by him in this case. Notwithstanding, it is best you ask the applicant to describe his driving history in regards to accidents and traffic infringements. You don't want a reckless driver to be in charge of picking and dropping your kids from home and school or causing unnecessary damages for your company. Though you may not be able to verify his records, you can tell if he's telling the truth from how straight and forthright his reply comes.
6. How Do You Stay Focused While Driving For Prolonged Periods?
This question determines the number of hours a day that a driver can work for. Driving is no easy task, especially after staying behind the wheel for long hours at a stretch. After spending long hours on the road, some drivers begin to lose focus and this could lead to fatal accidents.
7. It's a Monday at 5 pm… What is the Fastest Route from Marina to Oba Akran?
Knowledge of local traffic and the layout of streets is an asset for drivers. This is an important driver interview question for drivers who would be handling deliveries or would be expected to deal with logistics. It is a question bordering on how familiar you are with the roads and how fast you can get your passenger or package to any given destination on time without excuses.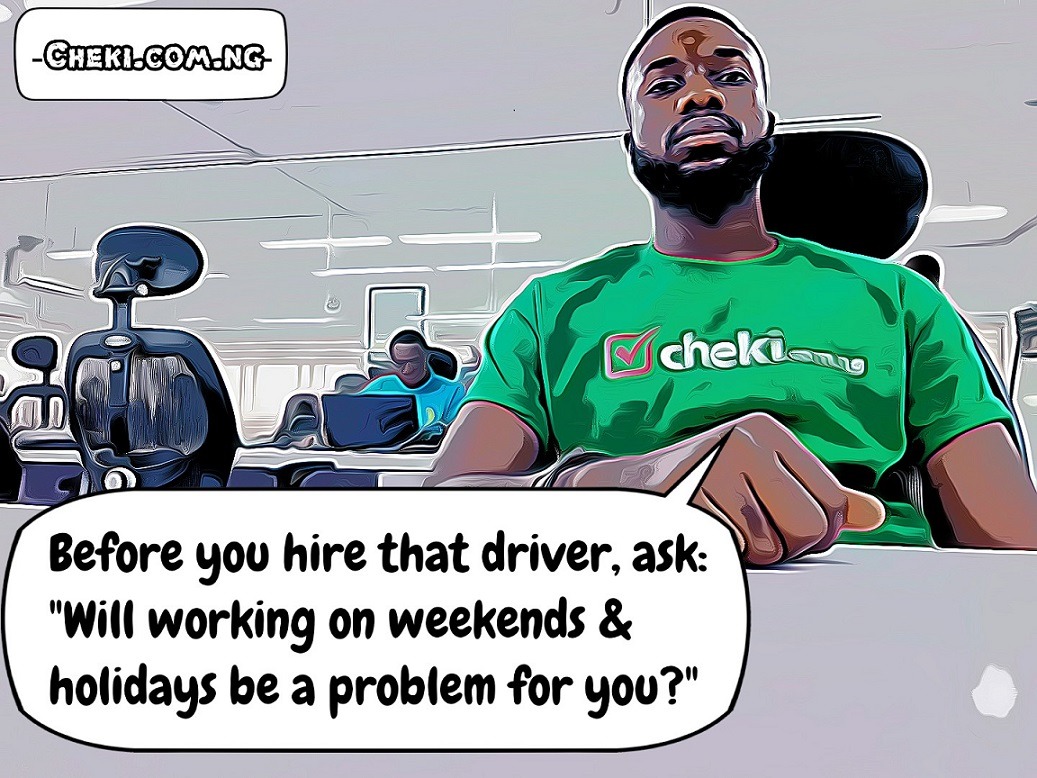 8. Will Working on Weekends, Late Evenings and Holidays Be a Problem For You?
This question is very important as it determines the driver's likelihood to comply with their work hours and conditions of service. A driver who would not be available for weekends, late evening drives and during holidays needs to make this clear at this point.
9. Can You Tell Us About Your Track Record of Keeping to Time Schedule on Distant Routes?
As a car owner, if it's a priority for you to hire a driver who can adhere to a time schedule, you need to communicate this to a driver via an interview question.
Don't hesitate to ask the driver to share instances where he/she has kept to the time schedule on distant routes.
Time is of the essence in both driving and other professions. A driver who can't keep to time schedule probably shouldn't be trusted with the job of driving people who know the value of time.
10. Why Should We Hire You?
For a driver attending an interview, this is an opportunity to convince the interviewer about why you are the most qualified person for the job. To do this adequately, you need to refer to the job description given to you by the interviewer and align your skills and experience to it. You then restate that you have those skills and experience required for the job.
Final Thoughts on Driver Interview Questions
You can take the driver interview questions a step further by creating different driving and traffic scenarios and asking the potential driver to provide answers to them. For instance, you can ask the driver a question like:
"So, if you were driving towards Ikeja from Maryland and you discover heavy traffic shortly before Sheraton Hotel, which route would you take?"
Away from the scenarios, you should also ensure your driver is digitally inclined; one who takes advantage of technological advancements that make his/her job much easier.
For instance, it is obvious that a driver who checks Google Maps before heading into the road will be considered smarter and would work more efficiently in comparison to a driver who doesn't.
You also need to ask questions about his car maintenance culture. At this point, he should be able to walk you through his car maintenance routine and tips. This has a direct impact on the mechanical health of your car. A car that isn't well maintained will experience premature problems.
(Visited 32,564 times, 5 visits today)