In this piece, Samod Biobaku, Cheki Nigeria's Content Marketing Specialist narrates how taking the picture of cars and policemen confiscating motorcycles got him arrested and battered by officers of the Nigerian Police Force
How it Began
On my way home from work on January 9, 2020, I got off a BRT bus at Ojota, used the pedestrian bridge (new one) to the other side of the road and headed towards the park where I could join a tricycle to Toyin Street in Ikeja.
I Spotted Something Curious
As I descended the pedestrian bridge, I noticed passersby staring at a particular direction and gathering in groups and clusters. Without stopping, I looked around and saw armed policemen anchored at several strategic points of the road. It looked like a regular scene to me until I noticed traffic had been halted. At this point, I slowed down and looked in the direction of the second pedestrian bridge and saw two trucks park close to the old pedestrian bridge.
An Idea Struck Me
I was struck by a wave of inspiration and a creative voice in my head whispered to me: "Samod, why not capture an exclusive picture of the trucks and post it on Cheki Nigeria's social media platform?" The first caption that came to my mind to accompany the picture would be:
"Will this improve your experience on Lagos roads?"
As I pondered over this idea, I looked at the trucks and saw that one of them was filled to the brim with confiscated commercial bikes. The last time (2018) I posted a similar picture on Cheki Nigeria's Instagram page, it performed quite well. See image below: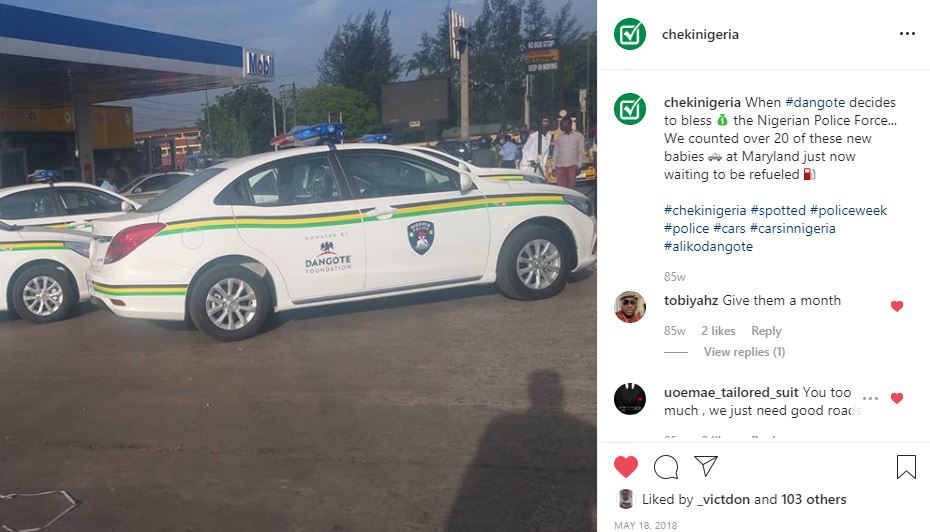 My Gut Feeling
I liked the idea of the picture and the caption but I also knew capturing such a picture comes with a huge risk. I asked myself, "what would these armed policemen say/do if I was spotted with a mobile phone taking pictures of them confiscating motorcycles and loading them into trucks?" My first instinct was to walk away from the scene and head home. I turned around and I was really close to boarding a tricycle when I suddenly froze, thought about the idea of the picture again and found myself walking back towards the pedestrian bridge.
I Needed a Strategy to Take the Shot
Taking pictures of tactical policemen isn't an easy thing, especially when you plan to do so with a Samsung A50. The fact that I was trying to do it at a place like Ojota where men and women were gathered in patches and looking restless did not help matters in any way. I brought out the phone and tried to take it from a distance but there was a raised demarcation in the middle of the road. This demarcation obstructed my view of the truck and the policemen. I knew I was never going to get a good shot from where I stood at that point in time.
I Needed a Vantage Point
I looked around and I eventually settled for the old bridge. While I turned this around in my mind, I asked myself: "Is it a criminal offence to capture pictures of policemen confiscating motorbikes?" I decided to take the risk. I have taken countless pictures discreetly in the past. I was not sure why a part of me hesitated against this but I decided to take the picture from the old bridge. To do that, I had to climb the bridge, which I did
I Was on the Bridge
As I stood on the bridge, I could see the trucks, the confiscated bikes and but I had all kinds of people around me on the bridge. There was only one person I trusted as I stood there and that person was me. I made up my mind to take the picture. I brought out my phone and took a quick shot without raising the phone. I checked the image and I knew I could get a better one if I adjusted my angle just a little bit. I changed my mind and was about to slip my phone into my pocket when I saw people around me dash abruptly.
My Village People Arrived
Everything that happened next happened in a flash; too quickly. I saw a muscular and fierce-looking cop leaping up the steps leading to the top of the bridge. At this point, he was about 4 steps away from me. I knew I had to act fast. The pedestrian bridge was really narrow and everyone in front of me was trying to get as far away from the approaching cop who didn't look like he was coming to shake hands.
What Did the Cops Look Like?
I should point out here that the mobile police operatives at the scene were enough to fill 3 to 4 police vans. Also, they were not the type of policemen with bloated stomachs and equally round frames. These ones looked like riot/SWAT squads.
I Became a Target
While I thought the policeman who was approaching the top of the bridge was on his way to scare onlookers away, I was completely wrong. By this time, I was already moving towards the other side of the bridge when I felt a vice grip on my belt from behind. If you have ever been arrested by the police in a very physical way, you would understand this grip. He firmly locked his grip on my belt and the back of my pants and dragged me.
I Was in Trouble
At this point, I could hear another policeman say, "Mr photographer… Na you sabi snap picture abi?" I knew I was in serious trouble.
The Violence Began
In the blink of an eye, I was already surrounded by cops who glared at me as if I was a serial killer responsible for over 100 murders. I was dragged violently and led down the stairs. For every step I took as I was led down the bridge, slaps and blows were rained across all sides of my face. I experienced an incredible amount of pain. The slaps never stopped. I wasn't counting but I use the Ojota bridge frequently enough to know that it takes over 30 steps to climb or descend the bridge. Every slap was followed by a slap hard enough to make my ears ring. Some of the blows to my head made.my sight blurry and I knew I was slowly drifting towards a concussion. This was getting out of hand yet I was nowhere close to the foot of the pedestrian bridge
I Calculated My Options
Despite the incessant blows to my head from policemen who were all behind me, I was mentally alert enough to know I had to make a decision. Some of the options I considered include:
Breaking free and running away

Trying to reason with the policemen

Resisting arrest and fighting back

Stay quiet and endure the beating

Concentrate on protecting my valuables

Dropping my bags and blocking the blows
The Beating Never Ceased
For some strange reason, the beating never ceased. The policemen attacked me like possessed beings. They struck me repeatedly. A part of me wondered why they kept hitting me despite my decision to comply with every single order they barked out. By this time, they had violently taken possession of my phone. I was treated like a common criminal and no one tried to stop them. Some onlookers might have even thought I was a thief caught in the act. We finally got to the bottom of the bridge and I was dragged to one of their trucks. Even as I stood there, the blows to my head continued. I could barely make out the faces of people around me because my ears, head and eyes were constantly getting struck by blows from so many policemen. This was bad!
What Did I Do?
I decided to options 4 and 5 from the list I shared earlier. I'm not sure what would have happened if I had decided to fight back or resist arrest but I decided not to fight back. It was hard for me to stay calm because of the level of pain I was experiencing but I held back. Fighting violence with violence didn't strike me as an intelligent option, especially because the people involved were armed policemen.
How Did it End?
The policemen held me at their van until a man appeared and said: "Where's the phone?" One of the policemen handed him the phone. The man was not wearing a police uniform but he spoke like a policeman. He looked at the policeman who arrested me and said to him, "I don tell you make you no dey beat people like this. You no day hear word!"
He handed me the phone and asked me to unlock it. I could barely see the screen of the phone as my vision was blurry. I collected the phone and tried to focus on the screen. I unlocked the phone. He asked me to delete the picture. I opened my gallery and deleted the image. He then ordered the policemen to release me. They did and I felt thoroughly humiliated. Onlookers sympathised with me and I could hear a lot of "Eyaaah! Sorry o… They really beat that bros o." It took a while for my vision to clear. When it did, I headed towards the Ojota park. On my way there, I realised the policeman returned my phone without my earphone. A certain onlooker; an elderly woman looked at me and said, "Bros, you get luck o. Your second wey dem beat put inside car, dem don carry am o." In proper English, what she was saying to me was that clearly, someone else had been arrested while trying to take a picture of the policemen before I arrived. Unfortunately for that person, he was beaten, arrested and carted away.
I Have a Surprise
Below is the picture that got me arrested and battered by policemen. Are you surprised I still have the picture despite deleting it in the presence of policemen and their probing eyes? Share your thoughts with me in the comment section. By the way, is it a criminal offence to take pictures of commercial motorcycles getting confiscated?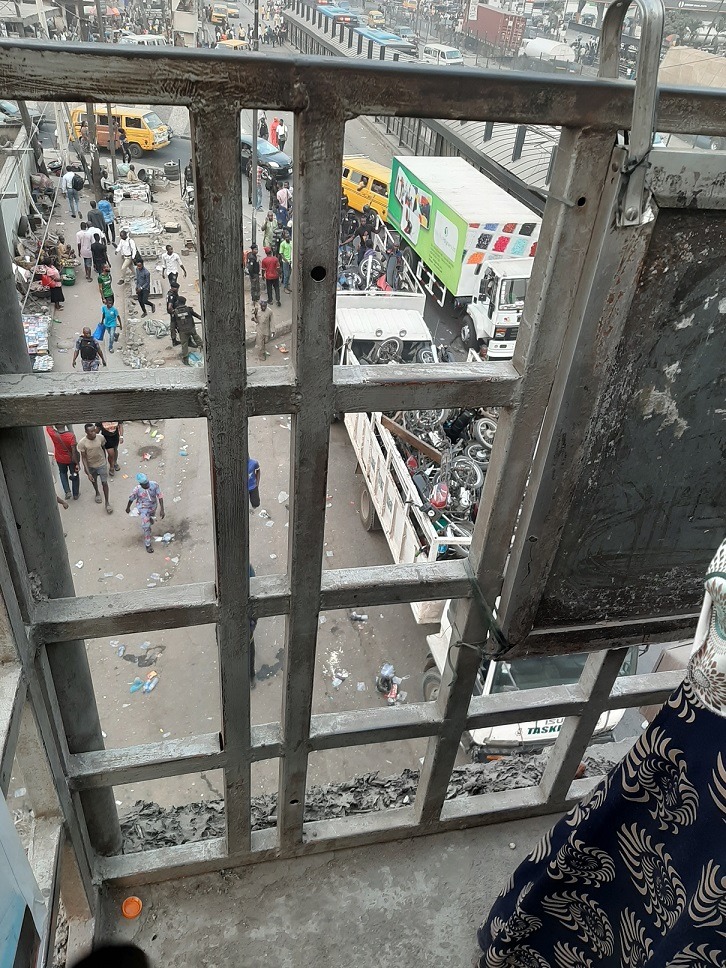 (Visited 189 times, 1 visits today)